CLARIFYE: The Digital Eye Exam That Shows You More
An eye exam is the critical first step eye doctors take to care for your eyes. By understanding exactly your eyes' current condition, treatment options can be recommended, allowing you to enjoy your best eye health and vision possible. At Progressive Eyecare, we understand the importance of eye exams so we work only to provide the best one for you through CLARIFYE.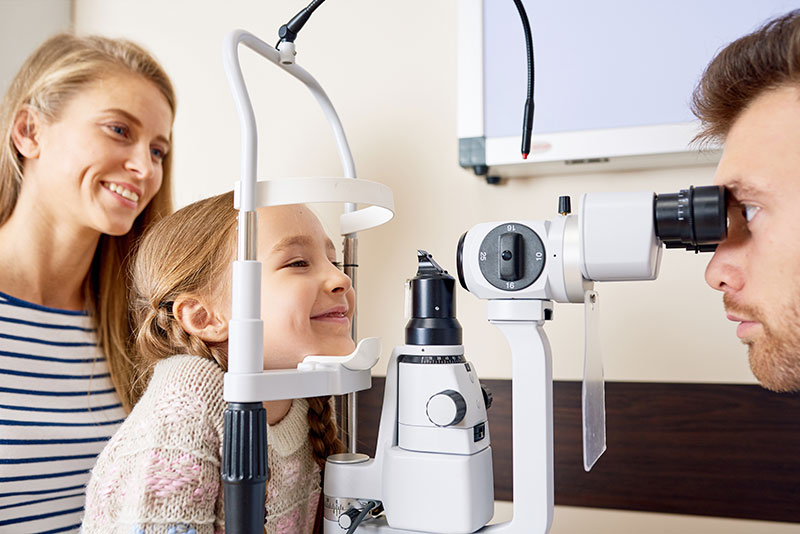 What is CLARIFYE?
A digital eye exam, CLARIFYE offers incredibly precise images, videos, and even vision simulations to aid eye doctors in discussing your eye health and vision in a clearer manner. This leads to less time spent on your refraction and more on answering your questions to give you a better grasp of your eyes' current condition.
What to Expect
When you sit down for a CLARIFYE exam, you won't feel like you're back in the 1900s. This means no more old-fashioned knobs. No more hand-turned lenses. Just an advanced digital system to provide you with a more comprehensive understanding of what's going on with your eyes.
It's not always easy to tell how two options differ but with CLARIFYE, you don't have to answer questions like, "Which is better, 1 or 2?", at all! This is because your doctor already has a very good idea of your prescription before asking you anything. By providing precise prescriptions, CLARIFYE makes it possible for you to enjoy clear vision in any situation.
The Eye is the Window to Your Health
High-resolution imaging from CLARIFYE is capable of detecting eye-related issues like cataracts and glaucoma and can detect health issues as well, such as diabetes and blood pressure. It's always a good thing to look after your eyes but it's even better when doing so also allows you to take better care of your overall health.
CLARIFYE: State-of-the-Art Technology With a Personalized Touch
Regular eye exams are important in ensuring you have healthy vision, whatever your age is. Only expert optometrists can assess your eye's health and provide the proper treatment if you have any condition.
At Progressive Eyecare, we always want to give you precise results for your vision exams. This is why we partnered with LensCrafters in providing CLARIFYE. This advanced digital eye exam combines technology with a personalized touch.
My 86 year old mother needed an eye exam to get new prescription glasses because her old prescription had expired. Dr. Chen was so kind and patient with her, he was really wonderful. He is great with elderly patients, very understanding, listens to their concerns and takes his time. I highly recommend Dr. Chen for eye exams, especially for older patients who need more "tender loving care." Thank you Dr. Chen.
Debby F - Boca Park
How It Works
CLARIFYE works by using advanced equipment to map the unique fingerprint of your eyes. This helps us understand the current state of your vision health. Our optometrist will assess eye health and look for signs of different conditions such as macular degeneration, diabetes, and cataracts. This way, we can suggest proper treatment to prevent your condition from worsening.
With CLARIFYE, we can help correct common night vision problems such as incoming headlights, starbursts, and glare. Together, we'll review the results with you by viewing advanced digital images of your eye. Afterward, our optometrist will recommend a digitally precise prescription glasses. We will advise you about eye wear and lenses customized according to your lifestyle. We'll also educate you on how you can protect your vision for the long term.
Schedule Your Appointment Today
With a healthy vision, you'll no longer experience difficulty in doing everyday tasks whatever the time of day. At Progressive Eyecare, we take care of patients of all ages, from children to seniors. We provide both contact lenses and prescription glasses so you can find the best solution that fits your lifestyle.
We have three offices across metro Las Vegas. Come and find the place that is right for your needs!